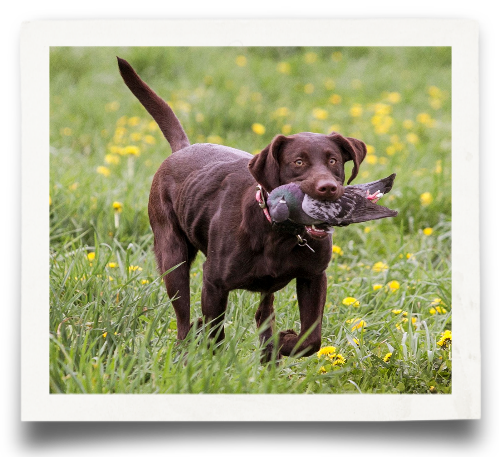 What is a Labrador?
The Labrador Retriever is currently the most popular dog in the United States.  One reason for that popularity is the amazing versatility of the breed.  Labradors excel as guide dogs, in the show, obedience, rally, and agility rings, as therapy animals, as hunting companions, in search and rescue work, and, of course, as family pets. [Read More]
LRC Breed Standard
General Appearance
The Labrador Retriever is a strongly built, medium-sized, short-coupled, dog possessing a sound, athletic, well-balanced conformation that enables it to function as a retrieving gun dog; the substance and soundness to hunt waterfowl or upland game for long hours under difficult conditions; the character and quality to win in the show ring; and the temperament to be a family companion. [Read More]
Illustrated Breed Standard
The Labrador Retriever is a working dog bred to perform retrieving tasks in any kind of weather or environment.  It possesses the physical characteristics and temperament that allow it to adapt to many parts of the world and to a variety of work beyond the shooting field.  [Read More]
AKC - Labrador Retriever
The gentle, intelligent and family-friendly Labrador Retriever from England continues to be the most popular breed in the United States, according to AKC registration statistics. This versatile hunting breed comes in three colors: yellow, black and chocolate.  [Read More]
Labrador Health
Breeding quality Labrador Retrievers is a costly and time-consuming undertaking if done properly.  Responsible breeders plan litters carefully, maintain standards and strive to achieve improvement with each generation.  Anyone interested in owning or breeding a Labrador Retriever should become familiar with the various medical conditions and appropriate health clearances before deciding to obtain a Labrador.  [Read More]
Designer Dogs
The Labrador Retriever Club, Incorporated is dedicated to the health and welfare of the Labrador Retriever breed, while conserving the original breed function - that of a "working retriever."  A purebred dog offers its owner the likelihood that he will be a specific size, shape, color and temperament. [Read More]
Join PSLRA
Want to become a PSLRA Member?  Visit our Membership page to learn more about PSLRA, and to submit an on-line Membership application.  [Read More]
American versus English or Conformation/Show versus Field
The Labrador Retriever Club, Inc.'s position is, there is only one breed of dog known as the Labrador Retriever, described by the Standard of the Breed.   Within Labrador Retriever breed type there are variations in body style which have evolved to suit the use of the dog, as well as the preferences of individual breeders and owners.  In the United States the general public has begun to label these variations mistakenly as "English or "American" style.  Perhaps a better description for variations in style is "Show/Conformation" or "Field" styles.
The Field or "American" style of dog is the label often attached to a Labrador Retriever possessing lighter bone structure and exhibiting more length of leg, a less dense coat, and a narrower head with more length of muzzle.
The Conformation/Show or "English" style Labrador Retriever is generally thought of as a stockier dog, heavier of bone and shorter on leg and with a denser coat, and having a head often described as "square or blocky."   However, working/field variations occur in England as well, so this description is not necessarily suitable.
These general images portray the extremes of both styles and do not help to identify the temperament, trainability or health of the dog.  In fact, the vast majority of Labrador Retrievers, whether of Conformation/Show breeding or Field breeding, possess moderate body styles much closer to the written Standard of the breed. It is possible that within a single litter, whether that litter has been bred for Show/Conformation or Field, individual pups can mature to be representatives of the range, though rarely producing the extremes, of the two styles.
We recommend that you discuss the issue of size and style, as well as temperament, trainability and health, with any breeder you contact.  However, please remember that there is only one Labrador Retriever breed, one that meets the requirements as set forth in the Official Standard.