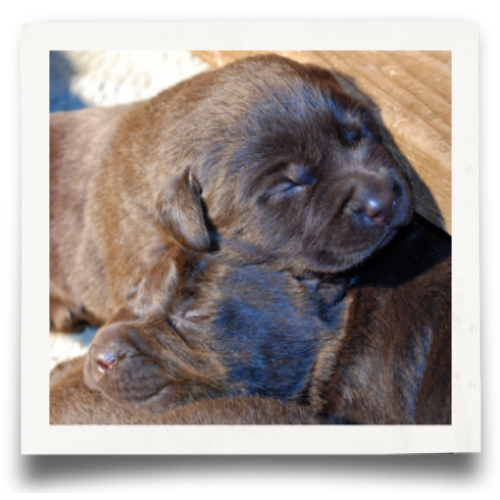 Code of Ethics
The Puget Sound Labrador Retriever Association recognizes our responsibility to the Labrador Retriever breed, and the Labrador Retriever breed enthusiast. As such, we set forth this Code of Ethics to reflect the desire of the membership to: [Read More]
Breeder Directory
The following is a list of PSLRA members who are currently breeding puppies.  The list includes kennel names and the color variations typically bred by that particular kennel/breeder.
Select Kennel Name Link to Access Breeder's Website (if available)

Select Link to Breeder's Name & Email to Access the Breeder's Email Address.

B = Black, C = Chocolate, Y =Yellow
About the Breeder Directory
While PSLRA encourages all breeders listed on the club's Breeders List to comply with the club's Code of Ethics, PSLRA cannot enforce these standards.
We strongly recommend that anyone interested in buying a puppy read the PSLRA Guide for Breeders and Buyers in order to know what to look for when choosing a breeder and a puppy and visit as many kennels as possible.
Information is as submitted by Breeders and provided as a service to the public.
This list is not an endorsement by PSLRA of any one breeder over another.
Active Breeders & Kennel Names:
| Kennel Name | Breeder's Name & Email | Colors | Phone | City | State |
| --- | --- | --- | --- | --- | --- |
| WindyCanyon | Anne Swindeman | B,Y,C | | Yakima | WA |
| Taylor Creek | Kari Audette | B,C | 425-765-8821 | Maple Valley | WA |
| Sunnydaze | Linda & Hugh Maffett | B,Y,C | 360-961-5269 | Bellingham | WA |
| Soundview | Marcy Johnson | B,C | 206-510-3467 | Kingston | WA |
| Somersun | Katie & Roger Somers | B,Y | 509-398-1470 | Quincy | WA |
| Skyfire | Stephanie Harris | B,Y,C | | Ellensburg | WA |
| Rocking "M" Retrievers | Bryant & Cindy Meyer | B,Y | 253-318-2723 | Eatonville | WA |
| ReiMur | Darlene Pado | B,Y,C | | Seattle | WA |
| Rainy Daze | Lisa McGlothlen | B,Y,C | 425-512-7929 | Stanwood | WA |
| Quail Run | Cynthia & Jim Freeman | B,Y,C | 360-273-7218 | Rochester | WA |
| MyKiss | Tamaria Hartman | B,Y,C | | Olympia | WA |
| Montview | Matt & Julie Oghigian DVM | B,Y,C | | Bozeman | MT |
| Maple Lane | Amy Smith | B,Y,C | 206-588-9189 | Ravensdale | WA |
| Lincoln Creek Valley | Cathy Hakola | B,Y | 360-736-7449 | Rochester | WA |
| Legacy Mountain Labradors | Diane Jasper | Y | 509-674-8229 | Cle Elum | WA |
| Landsburg Labradors | Tami Giles | B, Y | | Maple Valley | WA |
| Koa | Chantel & Al Nahoopii | B,Y,C | 360-770-0637 | Sedro Woolley | WA |
| JCam Kennel | Jan Cameron | B,Y | 650-549-5226 | Hood River | OR |
| Himoon | Lucy Isaacson Logen | B,Y | 206-423-6506 | Seattle | WA |
| Heirloom | Stacey Gnyp | B,Y.C | 360-384-1280 | Bellingham | WA |
| Harlequin | Diane Sullenberger | B,Y.C | 360-652-8271 | Arlington | WA |
| Everland | Stacey Parsons | B,Y, C | 253-405-5406 | Graham | WA |
| Elkhorn | Rob Parkins | B,Y | 208-569-5397 | Victor | ID |
| Devonshire | Allison Rogers | B,Y | 971-344-3909 | Tualatin | OR |
| Country Classic | Julie Germano | Y | 425-330-9316 | Arlington | WA |
| Cougar Creek | Cecilie Drege | B,Y,C | | Stanwood | WA |
| Clovercreek | Kimberly & Chris Dotson | B,Y,C | 253-278-1116 | Randle | WA |
| Chibry | Jill Mahoney | B,Y,C | 253-797-7779 | Covington | WA |
| Brush & Marsh | Barbara & Mark Pilkington | B,Y,C | 360-652-3204 | Marysville | WA |
| Blackthorn | Bob & Barbara Gilchrist | B,Y,C | 360-273-5462 | Rochester | WA |
| Artesian | Marlys Swanson | B,Y,C | 425-422-4789 | Marysville | WA |
| Aiyerbrothers | Ram Vaidyanathan | B,Y | 425-283-3229 | Puyallup | WA |