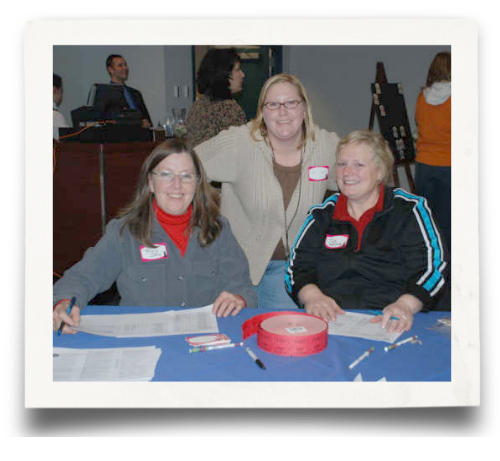 About PSLRA
PSLRA is a not-for-profit organization dedicated to promoting the Labrador Retriever as an All-Around Dog. [Read More]
Officers & Board Members
Our Board members each make an attempt to attend and help work at least one club event annually in addition to Board Meetings, All-Member Meetings, and Annual Planning Meetings. Many Board members are also chairpersons for events throughout the year.  [Read More]
Committees & Other Contacts
All Committee members and other contacts/positions within PSLRA are filled by volunteers.  Committees members and other contacts are instrumental in ensuring Club events, and the Club overall runs smoothly. [Read More]
Join PSLRA
Want to become a PSLRA Member?  Visit our Membership page to learn more about PSLRA, and to submit an on-line Membership application.  [Read More]
PSLRA Member Volunteers:
Annually, PSLRA holds a variety of events that promote the Labrador Retriever as an All Around or Versatility dog.  It is through the dedication and commitment of PSLRA members, past and present, that the Club is able to offer such events.  Thank you to all who have supported the Club over the years through your volunteer efforts.  It is your hard work that makes the Club a success!
All PSLRA members are encouraged to volunteer at Club events, particularly public information events, like the Sportsman's Show, Seattle Kennel Club "Meet the Breed" booth, etc.  The Club's purpose at these events is to help educate the public about PSLRA, and to promote the Labrador Retriever breed.  Without the help and support of our volunteer members, we would be unable to achieve these goals.
As a Reminder:  Breeder Directory Volunteer Requirements As of January 1, 2014
Breeder Directory Members must meet the annual Volunteer requirement by assisting the Club in at least one (1) capacity each year.

By volunteering to Chair or help at one (1) Club event.

Or, by participating in another role within the club, such as serving on a Committee, being a Board member, etc.

Donations to the raffle, website photo submissions, potluck items, etc., though greatly appreciated, are examples of actions that DO NOT count toward Breeder Directory volunteer requirements.
Not a PSLRA Member? 
Volunteering at a PSLRA event is a great way to learn more about the Club, as well as the venue/event you are helping with.  It is an opportunity to meet PSLRA Club members, make some new friends who share your interest in Labrador Retrievers, and get first hand Club experience prior to becoming a PSLRA member.
Current Volunteer Opportunities
The following are current PSLRA Volunteer Opportunities.  For more information about each opportunity, select the "Find Out More" link to access the complete details.  You can also sign up to volunteer by completing and submitting the Volunteer Sign Up form.
If you want more information about volunteer requirement for a specific event, or learn more about an event prior to volunteer, please contact the Event Chair at the information provided.
Sorry, there are no volunteer opportunities available right now.