AKC Summer Agility Trial – 2023 
Fun Fur Paws
22352 Stargate Place
Mount Vernon, WA
Friday, June 23, 2023 – Sunday, June 25, 2023
For complete details for this event please check the Premium (Coming Soon).
Please Note:  Entries for this event will be managed by R2 Agility
Entries for this event open on: May 10, 2023

Entries for this event closed on: June 16, 2023
Friday Judge: LaVar Griffin & Christian Eckhoff
Saturday Judges: LaVar Griffin & Christian Eckhoff
Sunday Judges: LaVar Griffin & Christian Eckhoff
DOGS ELIGIBLE TO ENTER:
This trial is open to all dogs fifteen (15) months of age or older that are registered with the American Kennel Club or that have AKC Limited Registration, Purebred Alternative Listing/Indefinite Listing Privileges (PAL/ILP) or an AKC Canine Partners listing number, or approved Foundation Stock Service (FSS) breeds, except bitches in season, aggressive dogs, blind dogs, or dogs suffering from any deformity, injury or illness which may affect the dog's physical or mental performance.
The following information is tentative.
Old Dog Benefit Runs:
PSLRA is planning a non-standard run on Saturday where all proceeds collected from these runs will directly benefit Old Dog Haven.  This is a great way to celebrate all those dogs that have helped to make the sport what it is today!
We will be running a novice Jumpers course at either 4 or 8".  Dogs running in the Benefit can't be entered in the regular show, must be over 10 years old or otherwise considered "senior" for their breed.  You must sign up for the non-standard runs in advance and by the closing date/time listed in the premium.
Old Dog Haven is a North End organization dedicated to helping Western Washington's homeless senior dogs.
To exit the pop up window, click the X in the upper right corner.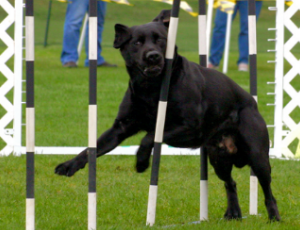 Friday, June 23, 2023 8:00 am — Sunday, June 25, 2023 4:00 pm
Fun Fur Paws
Cheri Levine