PSLRA 2024 Annual Awards Banquet & All Membership Meeting
Saturday, January 13, 2024
Location: Charlies Restaurant & Lounge
113 E Main Ave, Puyallup, WA 98372
RESERVATIONS & PAYMENT ARE REQUIRED BY DECEMBER 30TH!!!
Event questions please contact Mary Jane Sarbaugh or Jen Hajney 
PSLRA will be holding our annual Awards Banquet on JANUARY 13TH at the Charlie's Restaurant & Lounge in PUYALLUP.
Come join your fellow PSLRA members and non-members for an evening of fun, games & prizes!!  ALL are welcome!!!
5:00PM: Socializing & Appetizers
6:00PM: Buffet Dinner:

Pesto Salmon
Dijon Chicken

After Dinner: All Member Meeting

Annual awards for All-Around and Versatility Dogs will be presented, as well as Member of the Year and Presidents Achievement Awards.
Voting: 2024 Club Officers & Board Members
Cost:
PSLRA Members: $20.00
Non PSLRA Members: $40.00
16 years & Younger: Free of Charge
Instructions:
To register visit the Shopping Cart at https://www.pslra.org/product-category/awards-banquet/ to pre-pay and reserve your spot.
As needed, Members, Non-Members and No Charge Under 16 Years of Age can be included in one order/as one payment. Choose "Continue Shopping" to add all required options/quantities before check-out.
If a second Member, a Non-Member Guest and/or a No Charge Under 16 Years of Age is included in the order, list their First & Last Name(s) in the Additional Information/Order Notes Section of the order before check-out.
As a reminder, you must register and pre-pay for yourself and any guests by the December 30, 2023 deadline.
Space is limited to 60 attendees for this event.
To exit the pop up window, click the X in the upper right corner.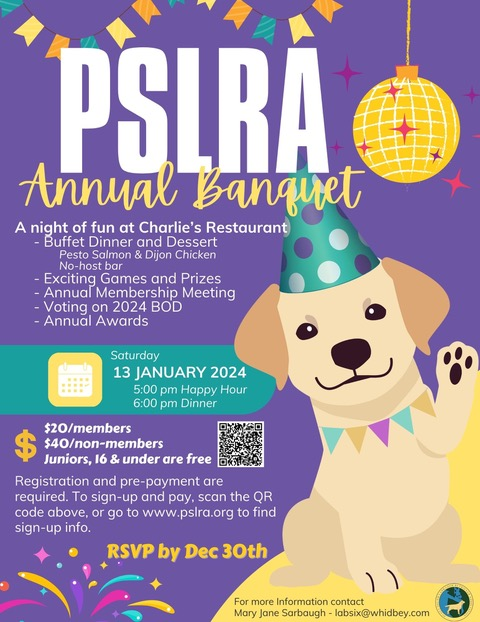 Saturday, January 13, 2024 5:00 pm
Charlies Restaurant
Jennifer Hajny, Mary Jane Sarbaugh